The Cognitive Abilities Test (CogAT)

The most-chosen ability
assessment for educators.
A recent Education Week Research Center report shows 54% of districts surveyed use the Cognitive Abilities Test™ (CogAT®) as part of their gifted and talented identification criteria.
Getting insights into students' cognitive abilities opens a whole new realm of possibilities. Teachers can tailor instruction to match how students learn, consider students for enrichment programs that pique their interest and challenge their thinking, and uncover gaps between student achievement and ability.
CogAT makes it happen by measuring abilities across the symbol systems that are
most highly correlated with fluid reasoning, problem solving, and success in school.
With its separate measures of Verbal, Quantitative, and Nonverbal reasoning, this research-based and proven test provides multiple perspectives on student ability
across grades K–12.
No wonder CogAT is the most-chosen ability
assessment for educators.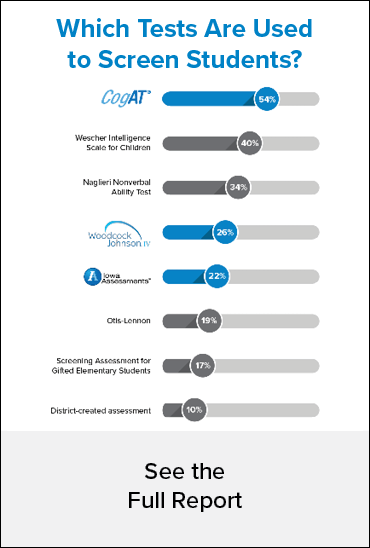 Click above to get a general overview of the new CogAT Dashboard.
To gain the rich insights into student abilities that CogAT offers, you can choose from a variety of reports that serve the needs of
different stakeholders, from families to teachers to administrators. Watch the videos below to learn more about the new CogAT Reporting Dashboard.
The CogAT Dashboard
for Teachers
The CogAT Dashboard
for Gifted/Talented Coordinators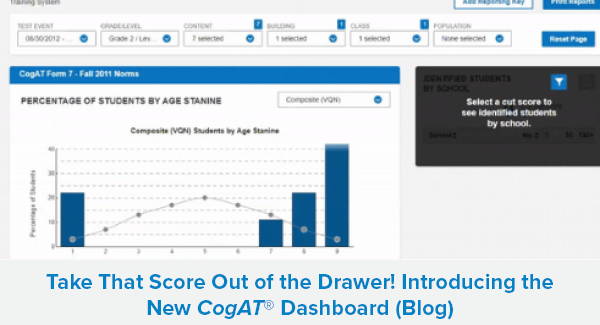 Check out other great CogAT resources,
including recorded webinars and white papers, in our...